Graduate School of Advanced Integration Science
Nishi-Chiba Campus
1-33, Yayoi-cho, Inage-ku, Chiba-shi, Chiba, 263-8522 Japan
Tel.+81-43-290-3034 Fax.+81-43-290-3039
http://www.adv.chiba-u.jp/?page_id=16
E-mail:mah3034@office.chiba-u.jp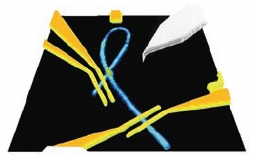 The Graduate School of Advanced Integration Science develops interdisciplinary and all-around educational studies as well as studies in specialized fields, backed by faculties such as Science, Engineering, Horticulture, and Literature & Education. The school, comprised of two Divisions, the Division of Nanoscience and the Division of Information Sciences, targets two important academic fields that have been rapidly progressing since the start of the 21st century. We offer two year Master's Program and three year Doctoral Program, in which we provide learning-friendly curriculums even for adult education and international students, such as programs that can be completed only in English and special individually-tailored courses.
The Division of Nanoscience has two Departments, the Department of Nanomaterial Science and the Department of Nanobiology, and aims to integrate the scientific fields of physics, chemistry, biology, mechanics, and device engineering at the nanoscale. In addition, the Division conducts research and education related to the Global COE Program on "Advanced School for Organic Electronics", funded by the Ministry of Education, Culture, Sports, Science and Technology. The Division of Information Sciences has two Departments, the Department of Image and Materials Science and the Department of Information Processing and Computer Science. The former aims for innovations of image technology, and the latter sets out to integrate the measurement, processing, transmission, and display of diverse range of information including images.
Master's & Doctoral Programs
Division of Nanoscience
Nanomaterial Science, Nanobiology
Division of Information Sciences
Image and Materials Science, Information Processing and Computer Sciences
Admission Policy
Chiba University Graduate School of Advanced Integration Science seeks to admit individuals capable of systematically understanding natural science from a broad perspective and maintaining high ethical standards while developing it extensively. Upon completion, we hope graduates from our master's program will contribute to the development of society predominantly as specialists, and graduates from our doctoral programs as pioneering researchers.