Daily Life
Housing
Chiba University has an off-campus dormitory for international students (International House). Note, however, that since the number of rooms is very limited, not all applicants can be accommodated.
01 Chiba University International House (
Kokusai-koryu-kaikan

)

Chiba University International House is an off-campus dormitory for international students. The International House is located within walking distance from JR Inage Station, which is just one station away (2 minutes by train) from the Nishi-Chiba campus. Many students commute to the campus by bicycle (10-15 minutes: if you are interested in renting a bicycle from University CO-OP, visit ISD Nishi-Chiba campus office for details). It provides rooms for singles, married couples, and families. Note that the tenancy period is limited to one year and cannot be extended or renewed.

Applications for the International House is accepted twice a year (for April and October move-ins) at the International Student Division. Application information and deadlines are announced on the bulletin boards and on its website.

Note that the likelihood of getting a room at the International House is quite low as the number of rooms available is significantly less than the number of applicants.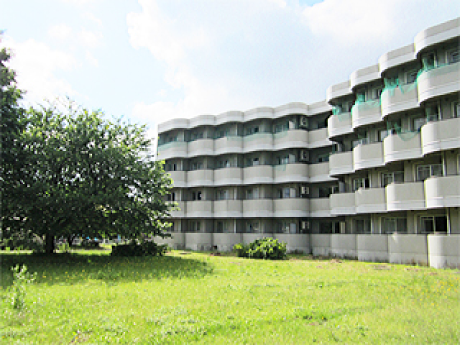 02 UR Apartment
UR is abbreviated name for Urban Renaissance Agency
UR apartment rooms at Saiwai-cho Danchi and Takasu Daiichi Danchi which Chiba University leases are available for International Students.

Applications for the UR apartment rooms is accepted twice a year (for April and October move-ins) at ISD. Application information and deadlines are announced on the bulletin boards and on the website of International Student Division.

Note that not all the applicants can be accepted at UR apartment rooms if the number of applicants exceed the number of the rooms available.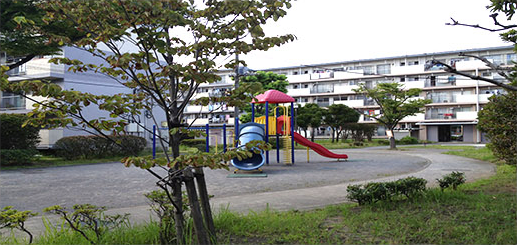 Cost of Living
One of the advantages of living in the Chiba area is that living expenses are not as high as in the Tokyo Metropolitan area, though they are located very close to each other.
Note that it is not customary to tip in Japan. For example, you do not need to tip at restaurants or taxi drivers. Refer to the following table to get an idea of how much things cost to plan your budget.
Item
Average prices/costs
bread
¥150/loaf
rice
¥2,000/5 kg
milk
¥200/liter
egg
¥200/10 eggs
apple
¥130/each
juice/soda pop
¥150/liter
McDonald's
hamburger: ¥120 ~ 500/each
value set: ¥480~
lunch
¥500~
dinner
¥800~
toilet tissue
¥350/12 rolls
tobacco
¥400~/pack
blanket/comforter
¥2,000~
clothing
¥2,000~/a cotton shirt
bus/train fare
¥210/¥160~ (depends on distance)
taxi fare
¥700/for the first 2 km + ¥100/every additional 0.5 km
Rates increase by 30% during late evening-early morning
gasoline
¥140~/liter
mobile phone plan
¥3,000~/month
movie
¥1,800/adult ¥1,300~¥1,500/student discount
monthly rent (Nishi-Chiba area)
studio: ¥35,000~; 1-bedroom apartment: ¥42,000~;
2-bedroom apartment: ¥45,000~
utilities
electricity ¥1,500 ~ 4,000+/month
water ¥1,500 ~ 4,000+/month
Transportation
01 Trains
Trains are the major means of transportation in Japan. Transit network systems in city areas are complex but very efficient and punctual. During commuting hours, trains are extremely crowded especially in metropolitan areas.

Fares generally depend on how far you travel. You must purchase a ticket at a ticket vending machine before you ride the train. If you are a frequent train user, you might want to purchase a prepaid electronic pass, Suica or PASMO, which saves you the trouble of buying a ticket every time you travel. With these passes, you can go through ticket gates by simply holding your card over the scanner. For details about Suica and PASMO, see their respective websites.

If you are a degree-seeking student (either undergraduate or graduate student) and use trains to commute, you are eligible to apply for the student discount commuting pass (Teiki-ken).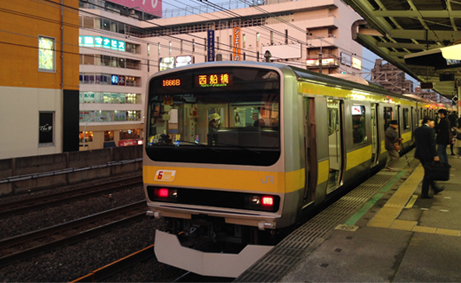 02 Buses
The bus transportation network is also quite extensive in city areas and very punctual. Each bus stop has a unique name, usually named after the area or a nearby landmark. On the bus, an announcement will tell you the next bus stop. The fare can be paid using Suica or PASMO for most bus services in city areas; the fare is paid before or after riding, depending on the route.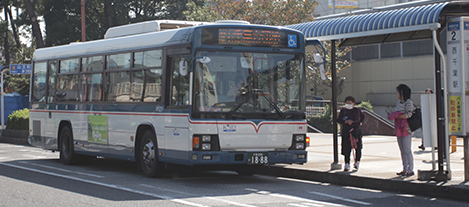 03 At your leisure
・ Bullet trains (Shinkansen)

Shinkansen is a long-distance transportation train offered by Japan Railways (JR) and is known for its high speed, style, service, and punctuality. Many tour packages visiting famous cities and historic places throughout Japan by Shinkansen are offered at relatively low fares. For more information, refer to the following website.

http://english.jr-central.co.jp/index.html
・ Airlines

Flying is another way to travel within Japan, especially to other islands. Besides the major airline companies, All Nippon Airways (ANA) and Japan Airlines (JAL), low cost carriers (LCC) are on the rise in Japan.