Center for Environment, Health and Field Sciences
Kashiwa-no-ha Campus
6-2-1, Kashiwa-no-ha, Kashiwa-shi, Chiba 277-0882, Japan 
Tel. +81-4-7137-8000 Fax. +81-4-7137-8008
http://www.fc.chiba-u.jp/english/top.htm
E-mail:zao8006@office.chiba-u.jp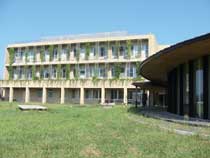 The Center aims to promote fundamental and applied research on science and technology related to environment, health, urban environmental horticulture and field sciences. The Center is also responsible for the education of undergraduate and graduate students in co-operation with faculties and graduate schools in Chiba University. Promotion of interdisciplinary and international cooperations in research, education and related business with public and private sectors outside Chiba University are also an important role of the Center. The Center was founded in April 2003 with 15 academic members specializing in the Center activities and over 50 associate academic members belonging to various scientific fields within Chiba University. Attached to the Center is the Kashiwanoha Kampo Clinic of Chiba University, founded in June 2004, and is also the Kashiwanoha Acupuncture Clinic of Chiba University, founded in November 2006. The Center has three horticultural experimental stations in Kashiwa, Atagawa and Numata, where research/studies on environmental horticulture are conducted.
Research Fields
Main research subjects in the Center are developing methods of preventive medicine for human health, environmental education, horticultural therapy and environmental policy; 1) Clinical application of Kampo medicine and medicinal plant resources, 2) Universal design of tools, equipment, interiors, structures and open space, 3) Propagation, production and breeding of functional plants and production of functional foods for health both in mind and body, 4) Developing the advanced fundamental science and technology for crop and plant production and management system, 5) Resource saving, resource recycling and environmental conservation in production of functional plants and in greenery urban life, 6) Developing environmental horticulture technology for high quality urban life, and breeding of functional plants using high-technology such as biotechnology and information technology, 7) Introduction of beneficial effects of nonverbal communication with plants for care and therapy into oriental medicine.
In addition, "Sustainable Health and Field Science" is also the main research subject of the Center.