Institute of Management and
Information Technologies(IMIT)
Nishi-Chiba Campus
1-33, Yayoi-cho, Inage-ku, Chiba-shi, Chiba, 263-8522 Japan
Tel. +81-43-290-3535 Fax. +81-43-290-3518
URL:http://www.imit.chiba-u.jp/english/index.html
E-mail: info.imit@office.chiba-u.jp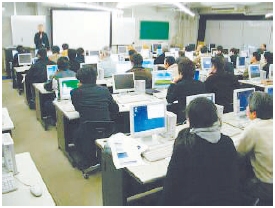 The Institute of Management and Information Technologies (IMIT) was established in April 2001 in order to promote research in various fields through media and information technology and the academic computing and networking truly appropriate to a university in the advanced information society of the 21st century. A super computer HITACHI SR16000 Model XM1 was newly installed in March 2011 and a new system called "Information and Computing System" with its three subsystems, Computing System for supporting education and research, Campus Network for supporting education, research and administration and Integrated Mail System began to operate.
With its four Divisions of Research and Office for computing service and Network Operation, IMIT collaborates with faculties and graduate schools in the related fields of research and education and strives to return the fruits of this collaboration to society as well as to the university.
Research Divisions
Division of Foundations of Information Sciences and Technology
For the research and development of principal theories on computers and network systems, etc.
Division of Media Technology
For the research and development of media technology for university education and continuing education, etc.
Division of Academic Information Processing
For the investigation of adequate ways of production, storage and maintenance of academic information contents, etc.
Division of High Performance Computing
For the research into new possibilities of using parallel computers as a research tool, etc.
Publications
The IMIT Newsletter (Published quarterly in Japanese)