Graduate School of Education
Nishi-Chiba Campus
1-33, Yayoi-cho, Inage-ku, Chiba-shi, Chiba, 263-8522 Japan
Tel.+81-43-290-2505 Fax:+81-43-290-2519
http://www.education.chiba-u.jp/
E-mail:hag2505@office.chiba-u.jp
In the Graduate School of Education (Master's Program), the aim is to train students in the theory of educational research, to develop their creativity, and to promote a deeper understanding of their particular academic discipline.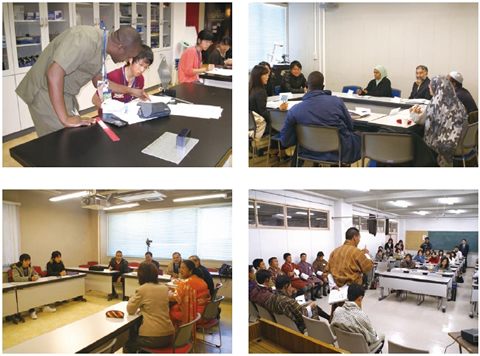 Master's Program
Science for School Education
-Division of Education and Human Development
-Division of Educational Management, Curriculum Development and Clinical Practice
Science for Study of School Subjects
-Division of Language, Human and Social Science Education
-Division of Mathematics, Science and Technology Education
-Division of Fine Arts, Music, Health and Physical Education
Furthermore, the United Graduate School of Education, which offers a three-year Doctoral Program, has been established through the cooperative efforts of Tokyo Gakugei University, Saitama University, Chiba University and Yokohama National University.
Admission Policy
The Graduate School of Education aims to impart in-depth knowledge from a broad perspective that builds on a foundation of general and specialized education acquired as an undergraduate, and train human resources capable of creatively promoting education theory and practice. Accordingly, we seek to admit individuals capable of researching, developing and recommending new educational content, assuming a leadership role in schools, and collaborating with communities to supervise education in schools and communities as a whole.