Graduate School of Humanities and Social Sciences
Nishi-Chiba Campus
1-33, Yayoi-cho, Inage-ku, Chiba-shi, Chiba, 263-8522 Japan
Tel.+81-43-290-2354 Fax.+81-43-290-2356
http://www.shd.chiba-u.jp/
(Japanese Only)
E-mail:gah2352@office.chiba-u.jp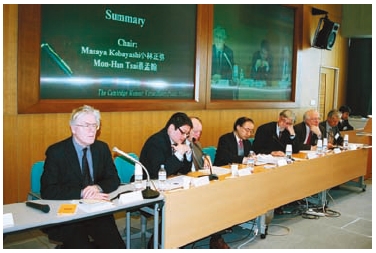 The Graduate School of Humanities and Social Sciences has aimed to combine a vast area of social sciences and humanities to produce integrated forms of new human sciences. It contains philosophy, psychology, sociology, anthropology, history, archeology, Japanese and European literature, culture studies, linguistics, language education, law, politics, economics, management sciences, sports sciences, etc. Public Affairs, one of the five divisions of master's programs (and of the three divisions of doctoral programs), aims to search for alternative new society models by an interdisciplinary approach based on philosophy, history, politics, economics and education. One of the central themes of our graduate school is to encourage interdisciplinary and creative research activities and to promote academic communality, by way of mutual cooperations (and mutual critiques) among different research fields.
Master's Programs
Formation of Area Cultures, Public Affairs, Social Sciences, Synthetic Cultural Studies, Advanced Management Sciences
Doctoral Programs
Public Affairs, Social Sciences, Cultural Sciences
Publications
Studies on Humanities and Social Sciences of Chiba University (Published semiannually in Japanese) Annual Bulletin of the Graduate School of Humanities and Social Sciences (in Japanese)
Admission Policy
Our master's programs welcome (1) individuals who aspire to conduct more advanced and specialized research with a view to contributing to academic research in the field of the humanities and social sciences, and (2) individuals who aspire to acquire more specialized knowledge than imparted in undergraduate education and participate in society as specialists in various fields.
Our doctoral programs welcome individuals with the ability to complete a doctoral degree thesis in a field of the humanities and social sciences in three years and earn a doctoral degree, and who, in the process of doing so, aspire to engage in multifaceted rigorous academic research, continue learning from the achievements of their predecessors with a modest attitude, come up with creative ideas of their own, and contribute broadly to academia and their area of specialization.