"President's Choice" September 28, 2022
Future Mucosal Vaccine R&D Synergy Center will be launched!
Chiba University was selected as one of the four Synergy Centers for a national project called "Japan Initiative for World-leading Vaccine Research and Development Centers," funded by the Japan Agency for Medical Research and Development (AMED).
Based on "the Strategy for Strengthening the Vaccine Development and Production System" adopted by a Cabinet Decision in June 2021, AMED forms a world-class research and development hub with the University of Tokyo as a flagship center, and four universities, Osaka, Nagasaki, Hokkaido, and Chiba as Synergy Centers.
Chiba University will set up the "Future Mucosal Vaccine Research and Development Synergy Center" on October 1, 2022, with Distinguished Professor Hiroshi Kiyono as Director of the Center.
Chiba University Synergy Center will focus on the R&D of oral and nasal "mucosal vaccines" that can induce mucosal immunity, which was difficult with conventional vaccines. Conventional vaccines effectively suppress the onset and aggravation of diseases when pathogens enter the human body. Mucosal vaccines are, however, also able to prevent the infection itself by blocking pathogens at the mucous membranes of the mouth and nose, which are gateways for pathogens.
Over the years, Chiba University has produced many outstanding achievements in immunology and infectious disease research. We have also developed a system to nurture researchers based on world-leading research activities and international collaboration with the University of California, San Diego, and other institutes. We expect the establishment of this synergy center will trigger a dynamic evolution of this study area.
We believe it is an extremely important mission for our university to lead an R&D of the next-generation vaccine and contribute to society. Chiba University researchers will work together with the university hospital and companies to achieve the practical applications of effective, safe, and secure mucosal vaccines.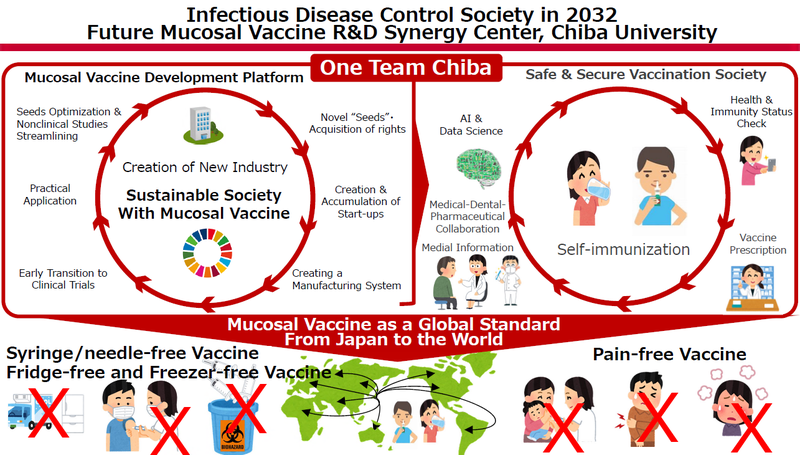 .