This program is managed by Japan Science and Technology Agency (JST) in order to support universities which introduce a tenure track system to provide young researchers with competitive research environment for promoting their independent and active research opportunities. Approximately 200 million yen per year is granted to each program for 5 consecutive years.
1. Detail of the Program
Targeting the field of natural science and focusing on the biological sciences, Chiba University Organization for Promotion Bioscience Research has been formed in order to significantly accelerate the fostering of independent young researchers and the activation of research projects. Young research-oriented professors (As a rule, associate professors) are widely recruited throughout the world to restructure human resources measures through activation of major research projects in the relevant graduate school, division and fields of study. An Evaluation and Screening Committee has been set up with members from outside of the university to strictly and impartially evaluate and screen candidates.
Upon the completion of the project, researchers will remain in their position or be offered a position in the relevant graduate school or field of study, through which the project is integrated into the school system, and systematically expand and continue with the human resources development system with continuing external funding (covered as expenses discretionary to the President or Director, indirect cost or overhead of department) or university funding.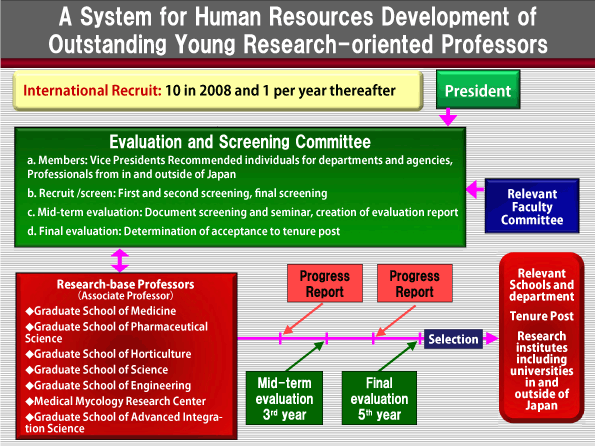 2. Development and Support for Tenure-Track Professors
Research-oriented professors hired through this program are placed under the graduate schools, with basic reference to the conventional research professor system, and such professors possess rights equivalent to other professors. In consideration of these professors, who will be dedicating their time to research activity, they will be exempted from faculty or other committee activities. Personnel and research costs are covered by funding allocated through each research lab and competitive funding obtained for the free pursuit of research. At the same time, the graduate school may already have a group formed for the relevant research to provide project-type research support (Global COE, Graduate School GP, etc.), and researchers are encouraged to participate in relevant research group, contribute to their training and the exchange of research information, and to effectively advance the research theme.