Research Exploring the Future Fair Society of the 21st Century Welfare State Model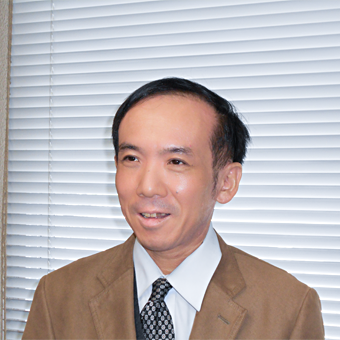 Jiro Mizushima
Professor, Faculty of Law, Politics and Economics, Chiba University
Professor Jiro Mizushima was born in 1967. He is a professor in the Faculty of Law, Politics and Economics at Chiba University and specializes in the history of European politics and comparative European politics. He graduated from the College of Arts and Sciences (Third Department of Arts and Sciences), University of Tokyo, and completed a doctoral program at the University of Tokyo Graduate Schools for Law and Politics with a PhD in law. After serving as a visiting researcher at Leiden University and an associate professor in the Department of Law, Konan University, he was appointed to the current post. He is the author of Sengo oranda no seiji kozo: Neo corporatism to shotoku seisaku (Political structure of the post-war Netherlands: Neo-corporatism and income policy) (University of Tokyo Press, 2001) and Hanten suru fukushi kokka: Oranda model no hikari to kage (Welfare state in reversal: The light and shadow of the Dutch model) (Iwanami Shoten, 2012; the winner of the 2012 Sonpo Japan Memorial Foundation Award). He is the co-author of Rodo: Kokyosei to rodo - fukushi nexus (Labor: Publicness and labor-welfare nexus) (Keiso Shobo, 2010) and Chiba shi no machizukuri wo kataro (Let's talk about urban development of Chiba city) (Chiba Nippo, 2012). He was chair of Chiba City Council for Gender Equality and has held many other official posts in local governments in Chiba Prefecture.

Research exploring "fairness in the 21st century" in the face of global "unfairness"
In the latter half of the 20th century, developed countries of Europe, the U.S., and Japan made advances as redistribution states premised on economic growth and realized a certain level of "equality" and social stability under the welfare state system. Since the end of the 20th century, however, macro-structural changes, such as globalization, low economic growth, progress in deindustrialization, low birth rates and aging population, are calling for reorganization of the existing welfare state system. Today, phenomena that are regarded as "unfair," not only of widening income gaps, employment instability, social exclusion, gender inequality, human rights violations, environmental destruction, and collapse of regional communities that can be observed in Japan, but also of increases in refugees and migrant foreign workers and serious cross-border environmental pollution, are rising as global issues. The welfare state model of the 21st century must lay emphasis on work-life balance and should be "service-oriented," supporting the development of individuals' potential through provision of care. In this model, "fairness" among individuals and among groups that is premised on social diversity will be essential. This program directly addresses the global issues of "unfairness" that have been described above, and explores how the new "fairness" can be for the future under the concept of the "fairness in the 21st century." In this research on the future fair society, we will actively build a research network with researchers from overseas. In the last academic year of 2015, we organized the first international symposium, Chiba Studies on Global Fair Society, on the theme of "migration, gender, and labor" on February 19 (Fri.), 2016. We are planning to organize the second and third symposiums in this academic year.

Further development as the only research center of studies of public affairs in Japan
Chiba University's Faculty of Law, Politics and Economics, which has traditionally laid emphasis on studies of public affairs, has, through its research, earned a reputation as the only research center on studies of public affairs in Japan. This program will fully build on the existing accumulation of public affairs research of the faculty and further develop it by (1) promoting more inter- and cross-disciplinary research, (2) focus on the practical application of the science through greater interactions with society, and (3) advance research interchange with related research institutions overseas as we establish an international research center on the "fair society studies." We also organize monthly workshops to support members. The first workshop was held on December 9, 2015, where Associate Professor Takayuki Kawase of the Faculty of Law, Politics and Economics, Chiba University, and a member of the Public Philosophy Unit under this program, reported on the theme of "an example of setting issues related to freedom, equality and fairness." Details on the activities of the workshops can also be found on the blog of the Fair Society Workshop (http://kousei-shakai.hatenablog.com/). We are also preparing for publication of a collection of papers that summarize our research results.

Message to students and young researchers
The workshops are co-organized by the associations for studies on public affairs, law, economics, and policy studies at Chiba University. If you belong to any one of these associations, do come to the workshops. Lectures that are closely associated with research on future fair society are also available from basic seminars and department curricula at Chiba University.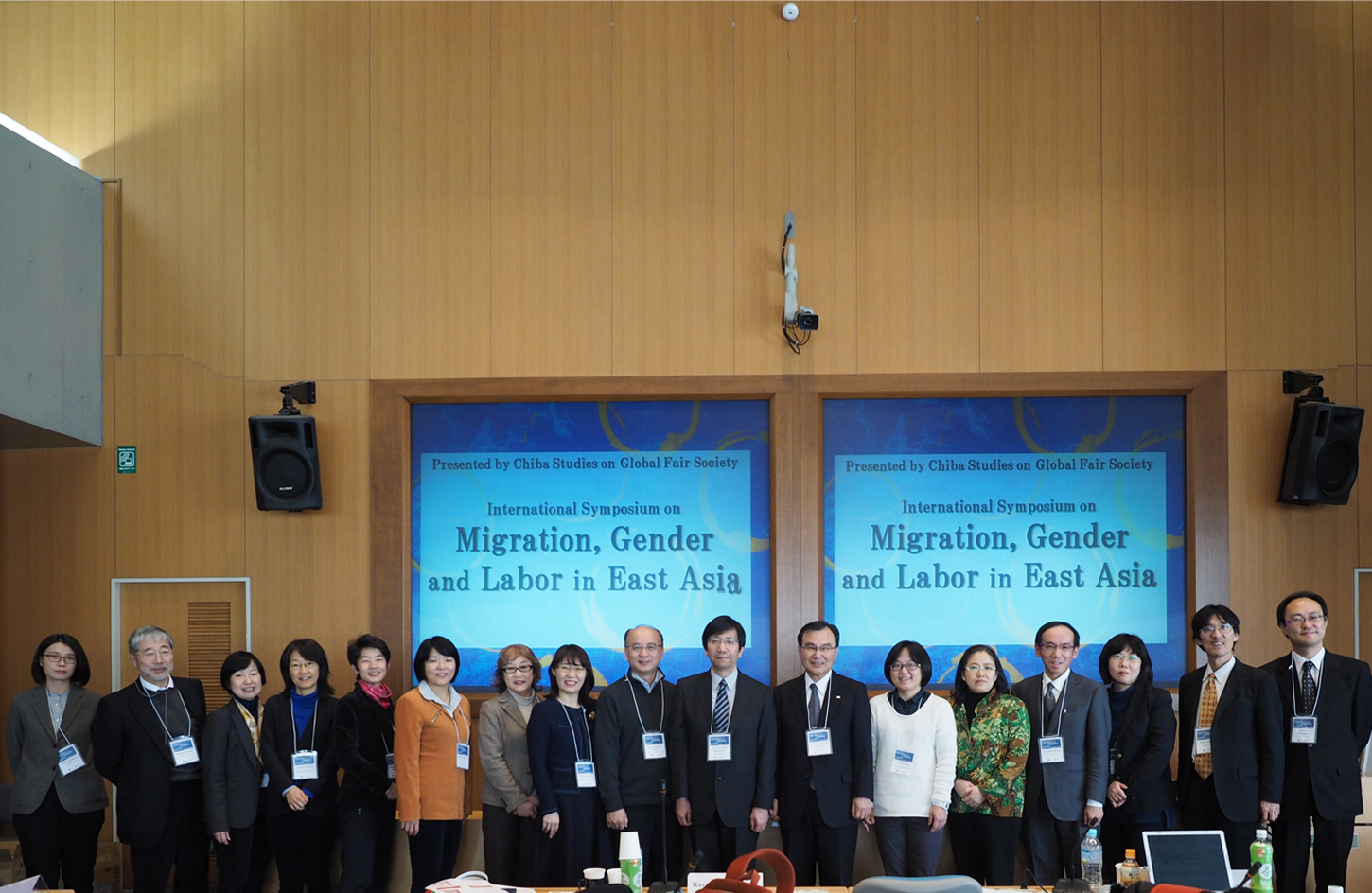 The 1st international symposium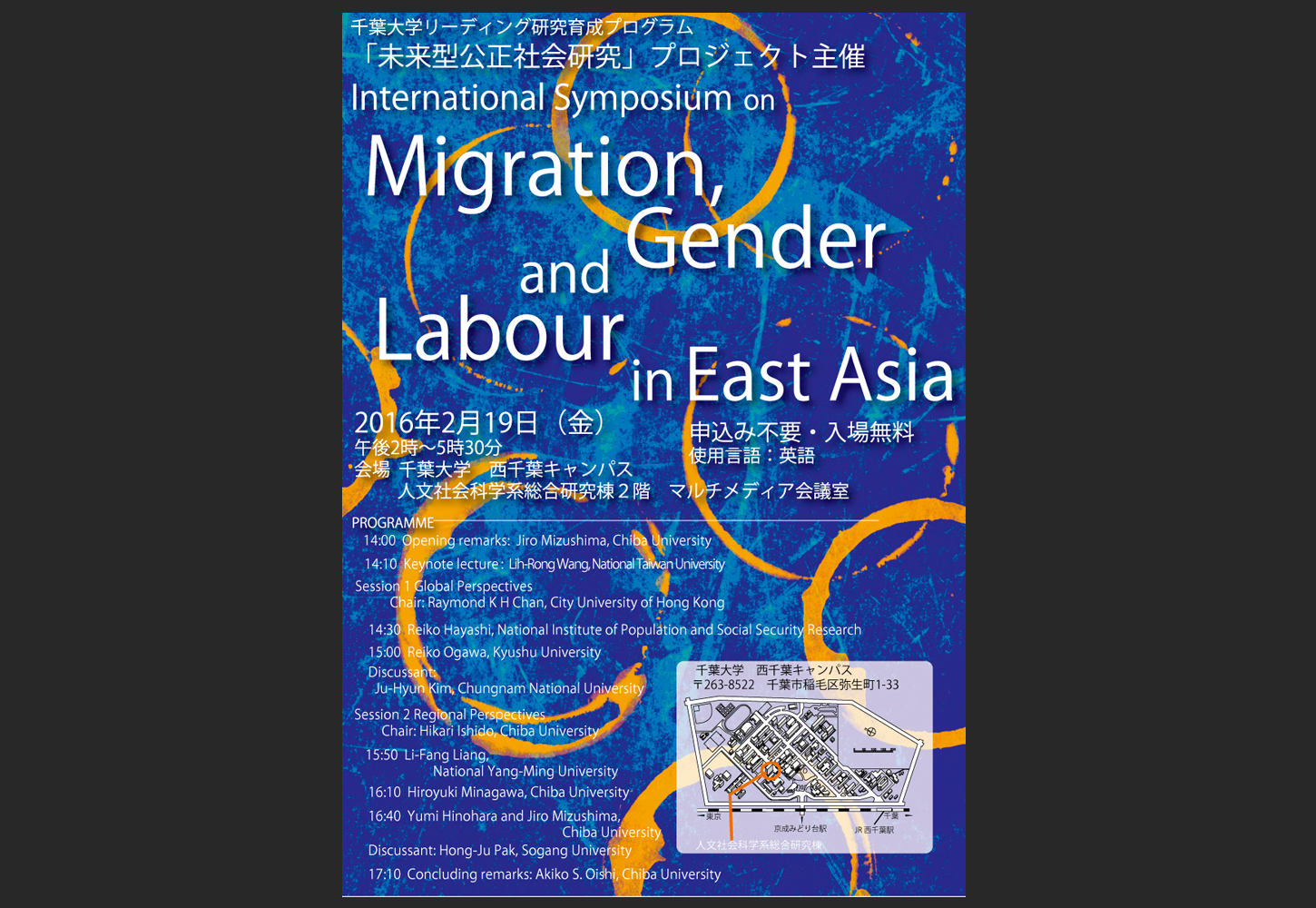 The 1st international symposium flyer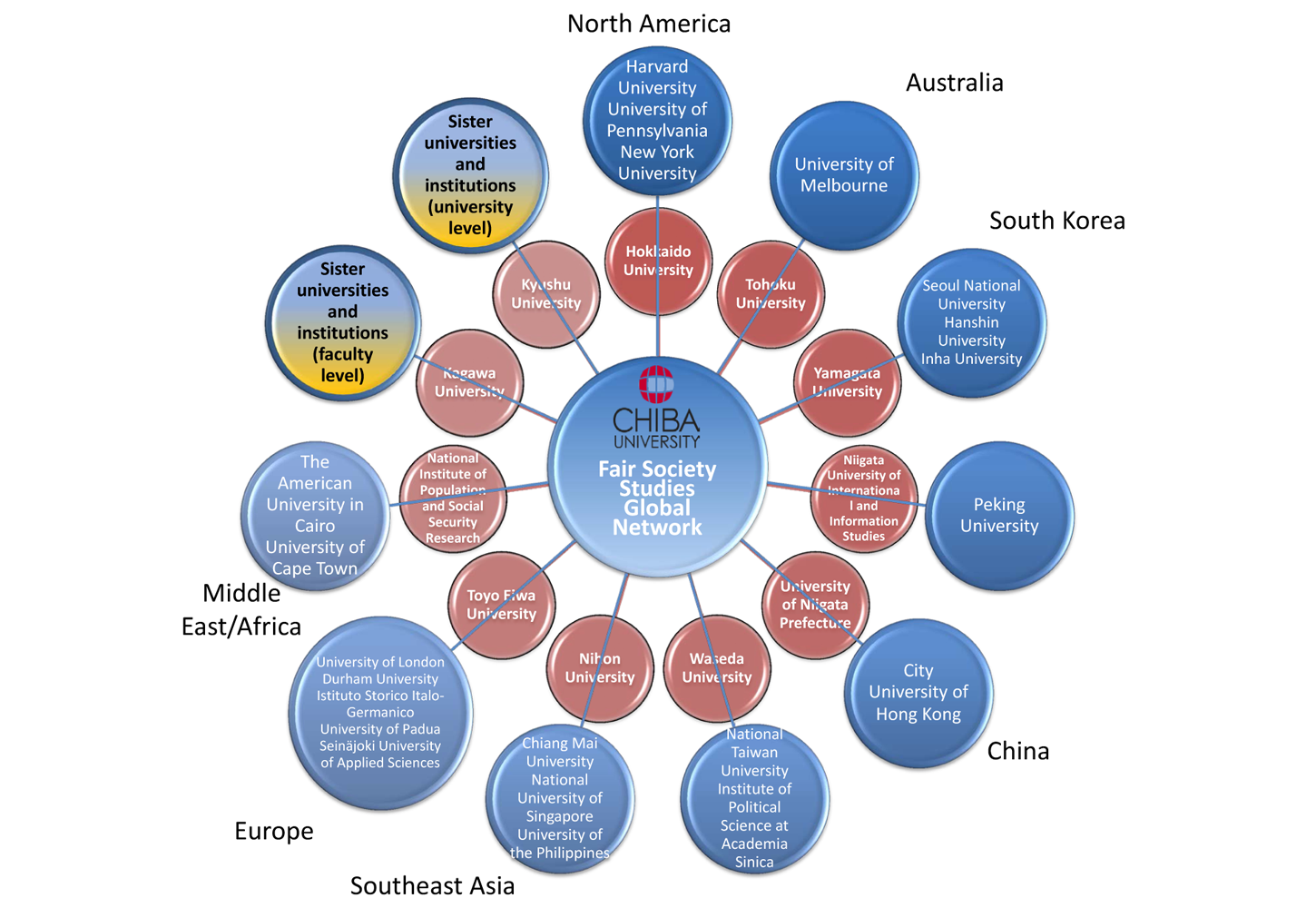 Establishment of an international network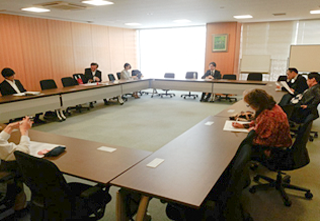 The first monthly workshop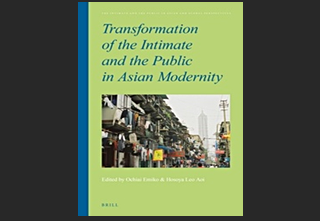 A collection of papers by group members and other international authors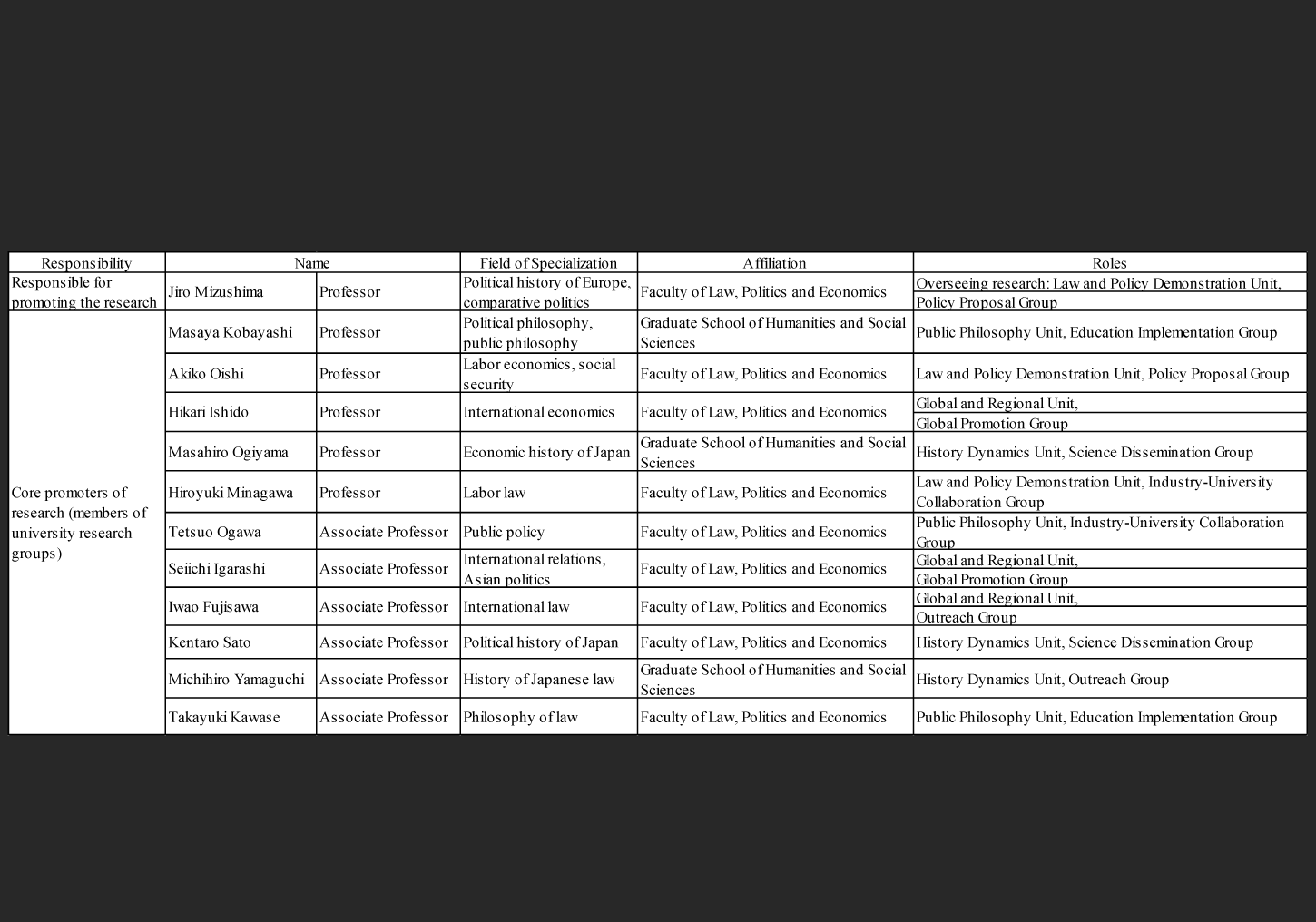 A list of members