Promotion of Regenerative Medicine and Disease Research on Tissue Stem Cells, Organ Regeneration, and Disease-Specific iPS Cells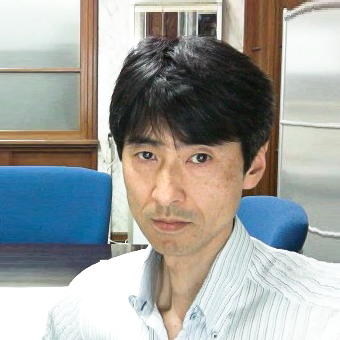 Atsushi Iwama
Professor, Graduate School of Medicine, Chiba University
Professor Atsushi Iwama is a graduate of the School of Medicine, Niigata University. After engaging in medical practice for five and a half years, he turned to research in basic medicine, obtaining a PhD from the School of Medicine, Kumamoto University, in 1996. He was appointed to the current post in 2005 and was appointed Director of the Center for Regenerative Therapeutics in 2015. Professor Iwama specializes in stem cell biology, hematology, and oncology. He is exploring the molecular mechanisms of the self-renewal and differentiation of hematopoietic stem cells based on the understanding of epigenetic regulation of gene expressions, and is promoting research into hematopoietic neoplasms that arise from breakdown in that mechanism. He has been serving as the representative for the Research on Innovative Areas "Stem Cell Aging and Diseases" since 2014, launching analysis on the physiological and pathological changes in stem cells that arise from aging.

Using iPS cells to develop new therapies and drugs
Stem cell research, with potential to expand into regenerative medicine and closely associated with various diseases that arise from cancers and aging, has important implications for life sciences in general. Research using disease-specific iPS cells is also gaining much attention as a useful technical approach to developing new treatment methods and drugs. Building on this progress in stem cell research, our research group aims to promote regenerative medicine and disease research using the group's own research approaches in stem cell biology and regenerative medicine and to bring about the "formation of integrated research center on regenerative systems and diseases" on a global scale.

The group's research into regenerative therapy is extremely beneficial in elucidating the etiology of diseases, for the first time for some of the diseases, and developing therapies and drugs from new angles. In particular, the use of patient-derived iPS cells will be an effective tool not only in the elucidation of disease etiology, but also in the process of drug screening in new drug development. Moreover, research on myocardium repair and development of new methods of hematopoietic stem cell transplantation therapies are expected to contribute significantly to radical treatment of severe heart failures and intractable hematopoietic, immune, and metabolic diseases. The cross-departmental research system and global network that will be established under this program will reinforce a collaborative system for disease research and development of therapies and drugs, and are expected additionally to stimulate joint research with companies on drug development.

Cross-departmental research system and building on an international network
Research Group 1 (tissue stem cells and disease research), Research Group 2 (organ regeneration and cell therapy research), and Research Group 3 (disease-specific iPS cells and disease research) independently promote regenerative medicine and disease research from their respective vantage points of tissue stem cells, organ regeneration, and disease-specific iPS cells. At the same time, the three groups will share their findings and provide feedback on the results of joint research, promoting research in this disciplinary field as a whole. We also hope to enhance and expand research in this disciplinary field through collaboration among the Chiba University Center for Regenerative Therapeutics, of which Iwama is Director, the laboratories of Chiba University Graduate School of Medical and Pharmaceutical Sciences, and the clinical departments, the Center for Advanced Medicine, and the Clinical Research Center of Chiba University Hospital.
The program builds an international network with the world's three leading groups on stem cell research, namely, Kumamoto University/National University of Singapore 's group on stem cell and regenerative medicine research, the University of Tokyo (Institute of Medical Science)/Stanford University's group on realization of regenerative medicine, and Kyoto University (Center for iPS Cell Research and Application)'s group on disease-specific iPS cell research, which enables promotion of joint research on a global level as well as technical collaboration.

Message to students and young researchers
We aim to conduct research based on collaboration that seamlessly combines basic and clinical medicine and pharmacy. Let's promote the kind of research that will benefit health care through university-wide collaboration.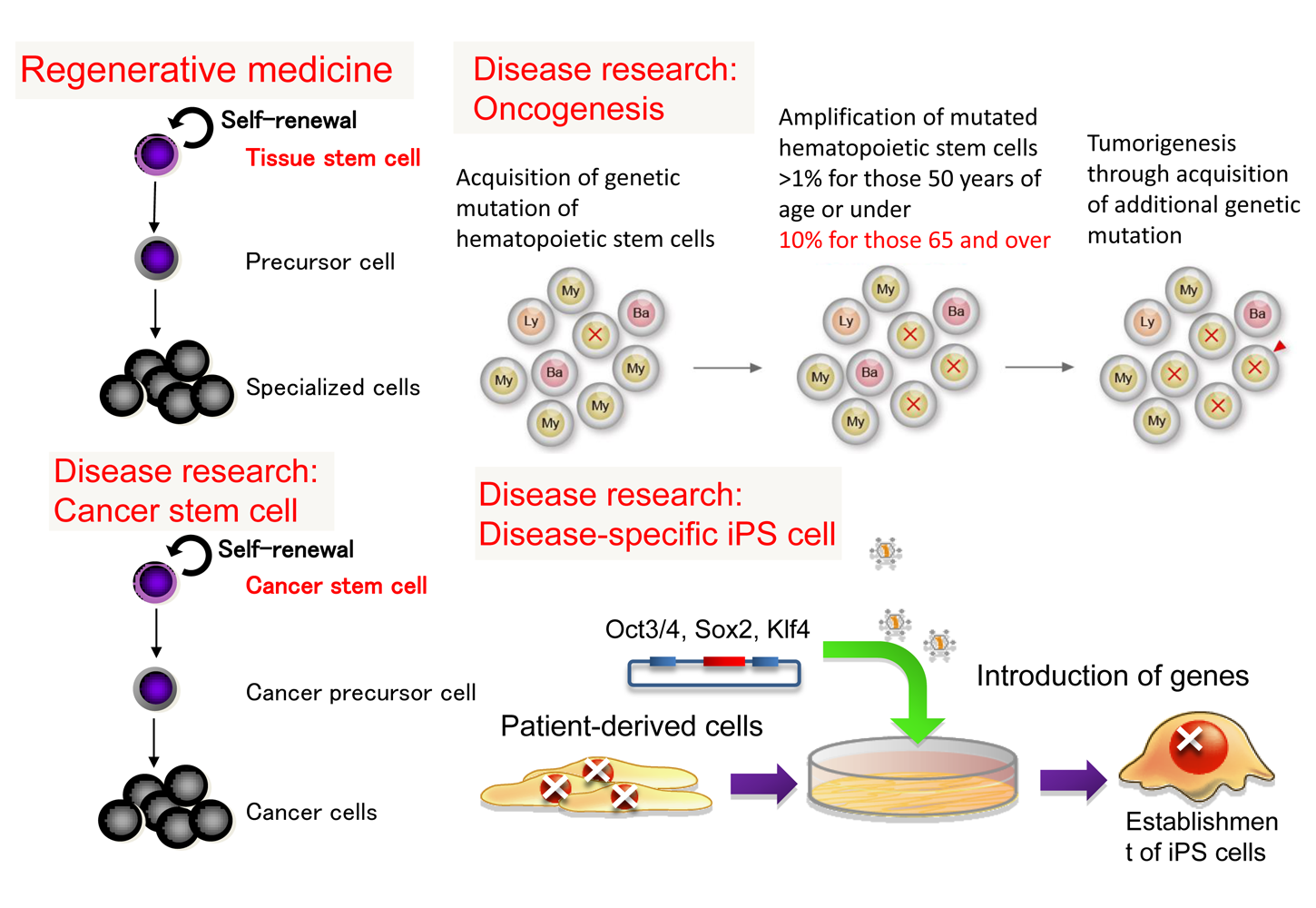 Goals of stem cell research: regenerative medicine vs. disease research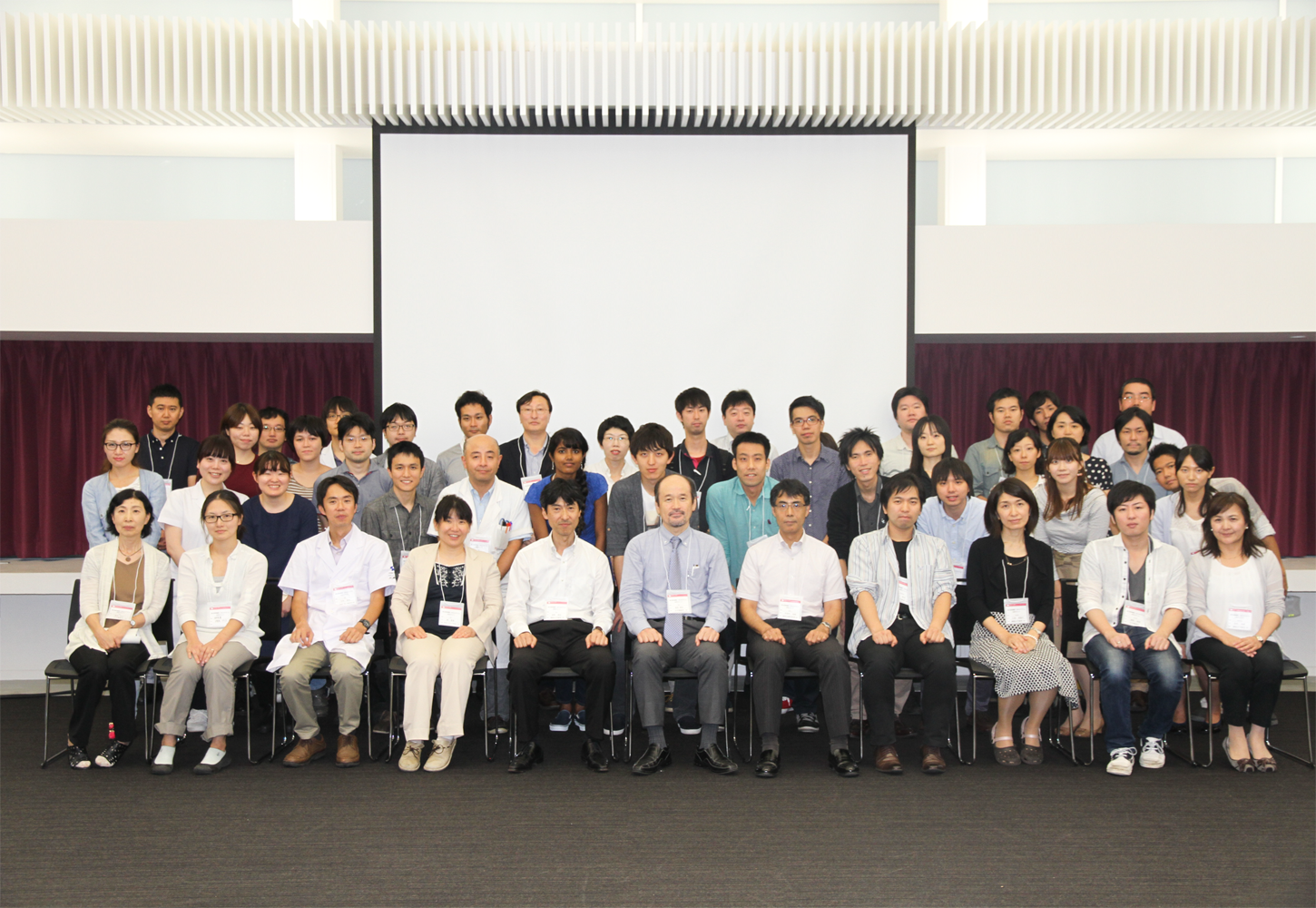 Joint workshop with the cancer epigenome research group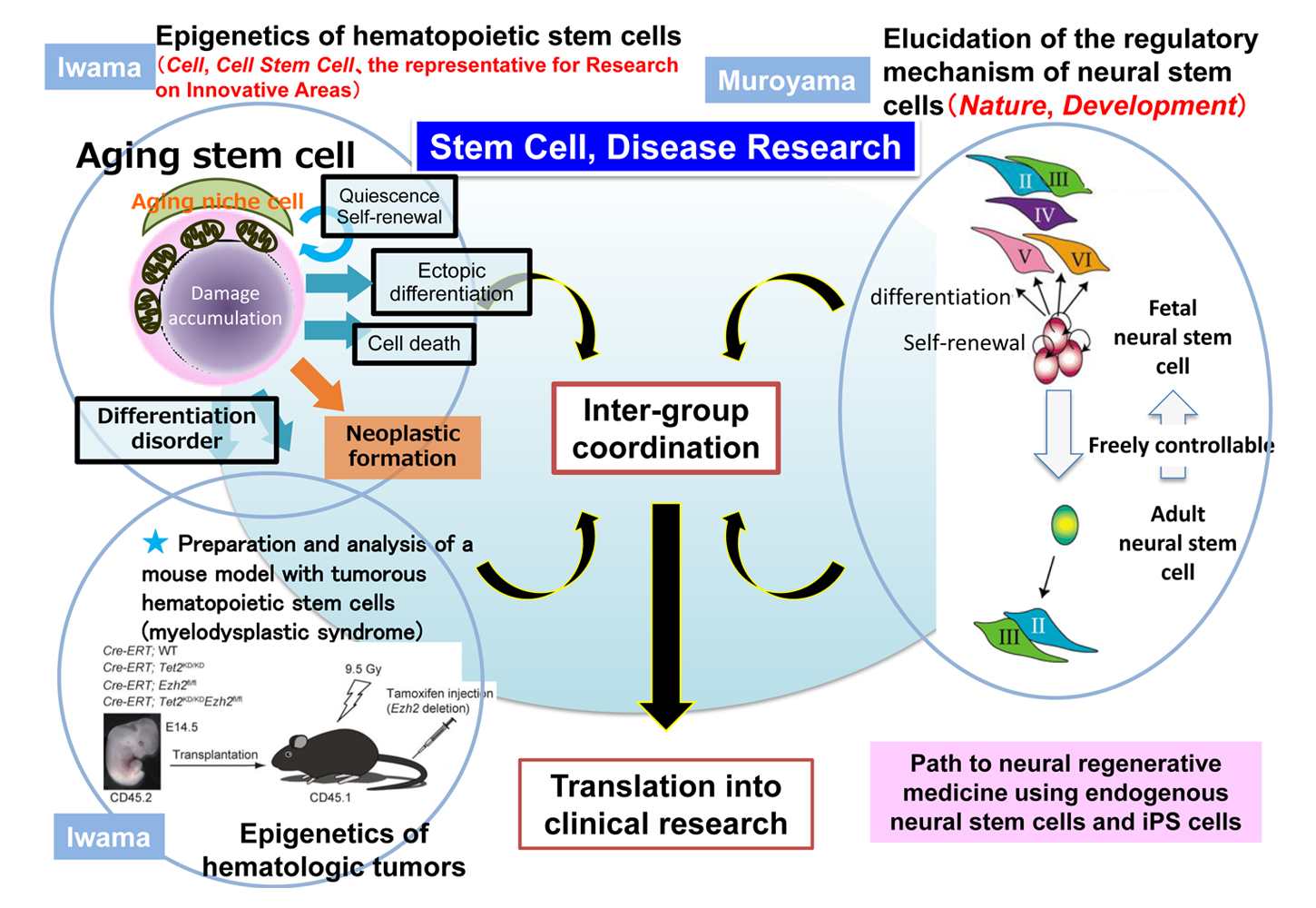 Research Group 1: Tissue stem cell and disease research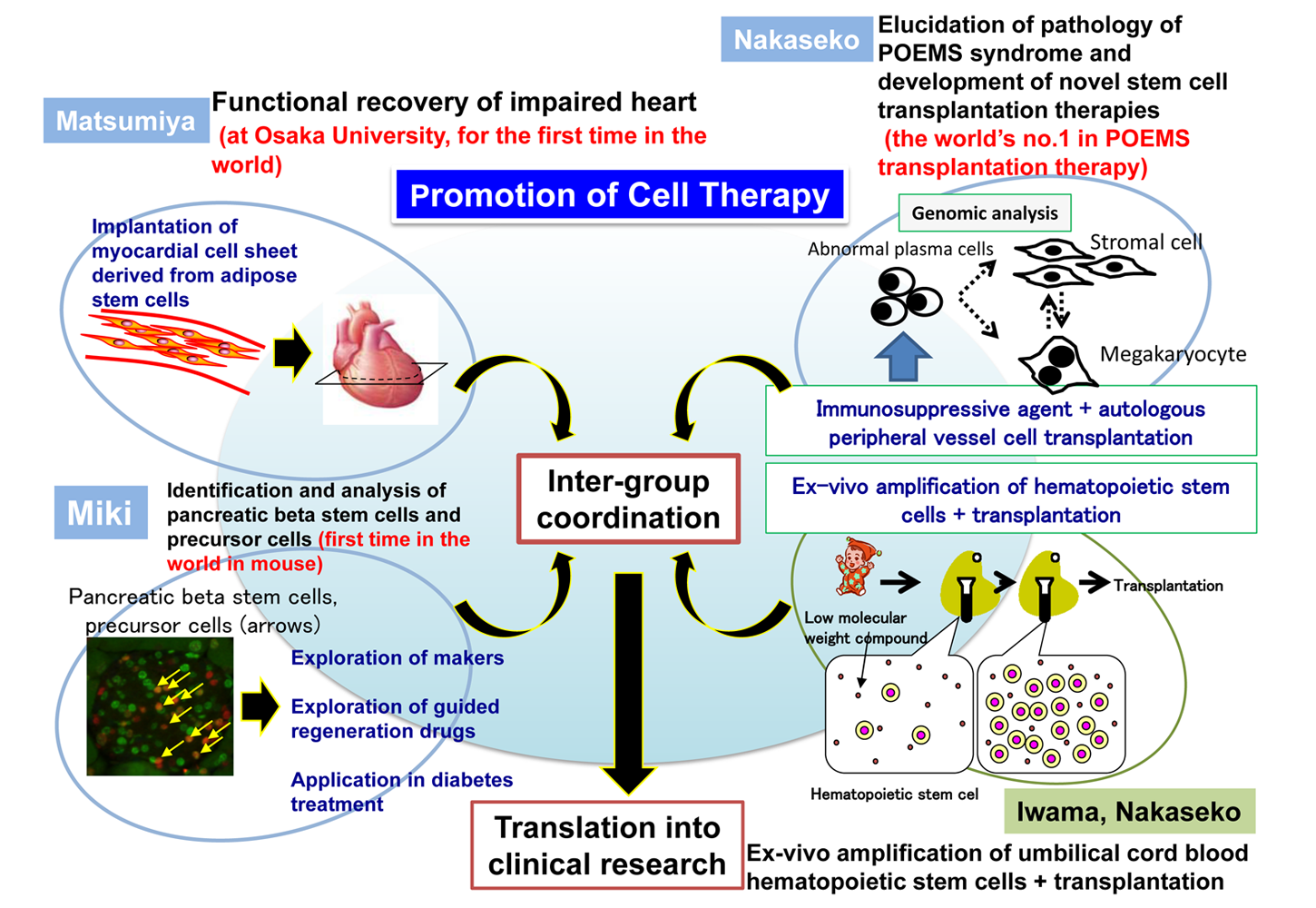 Research Group 2: Organ regeneration and cell therapy research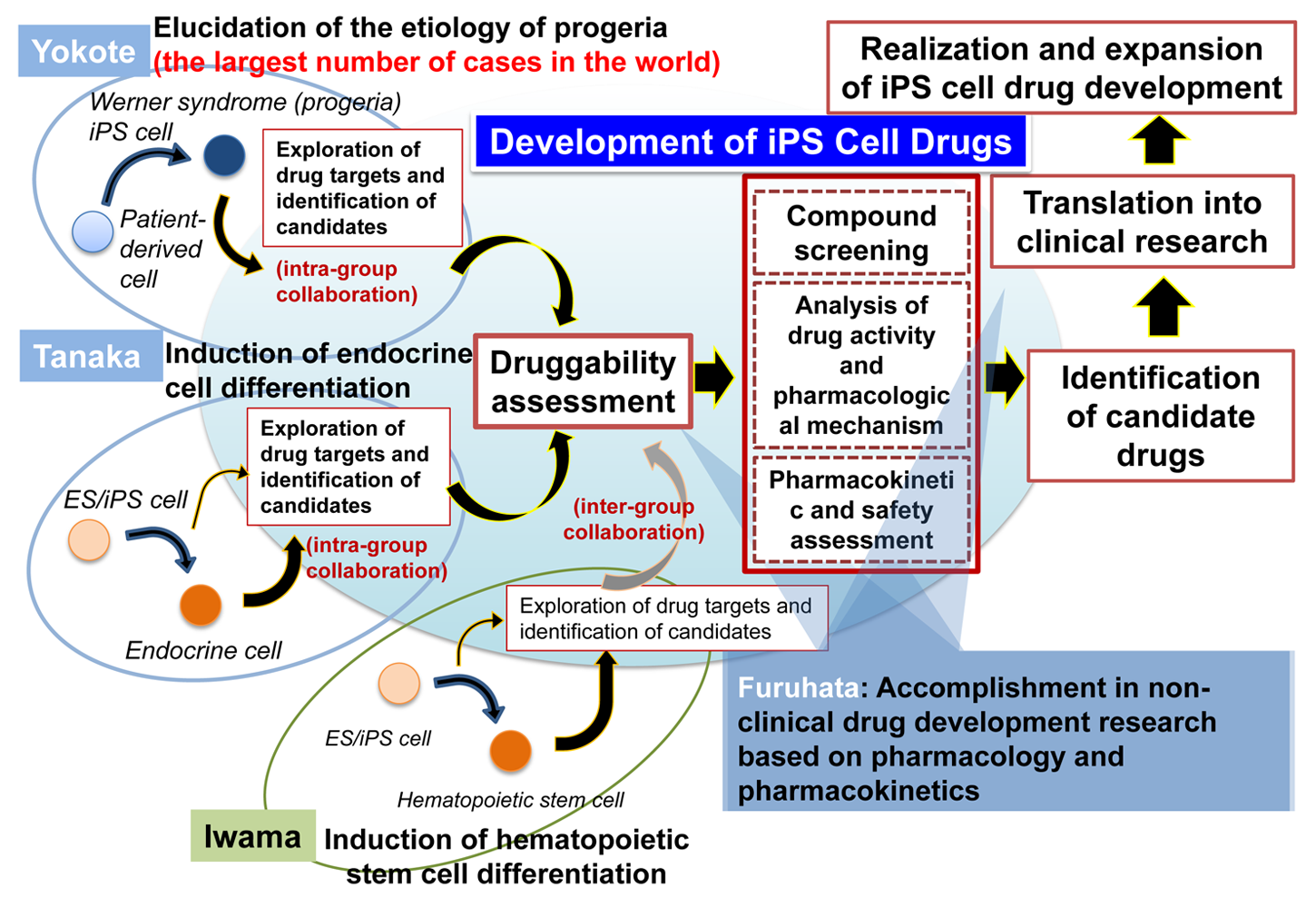 Research Group 3: Disease-specific iPS cell and disease research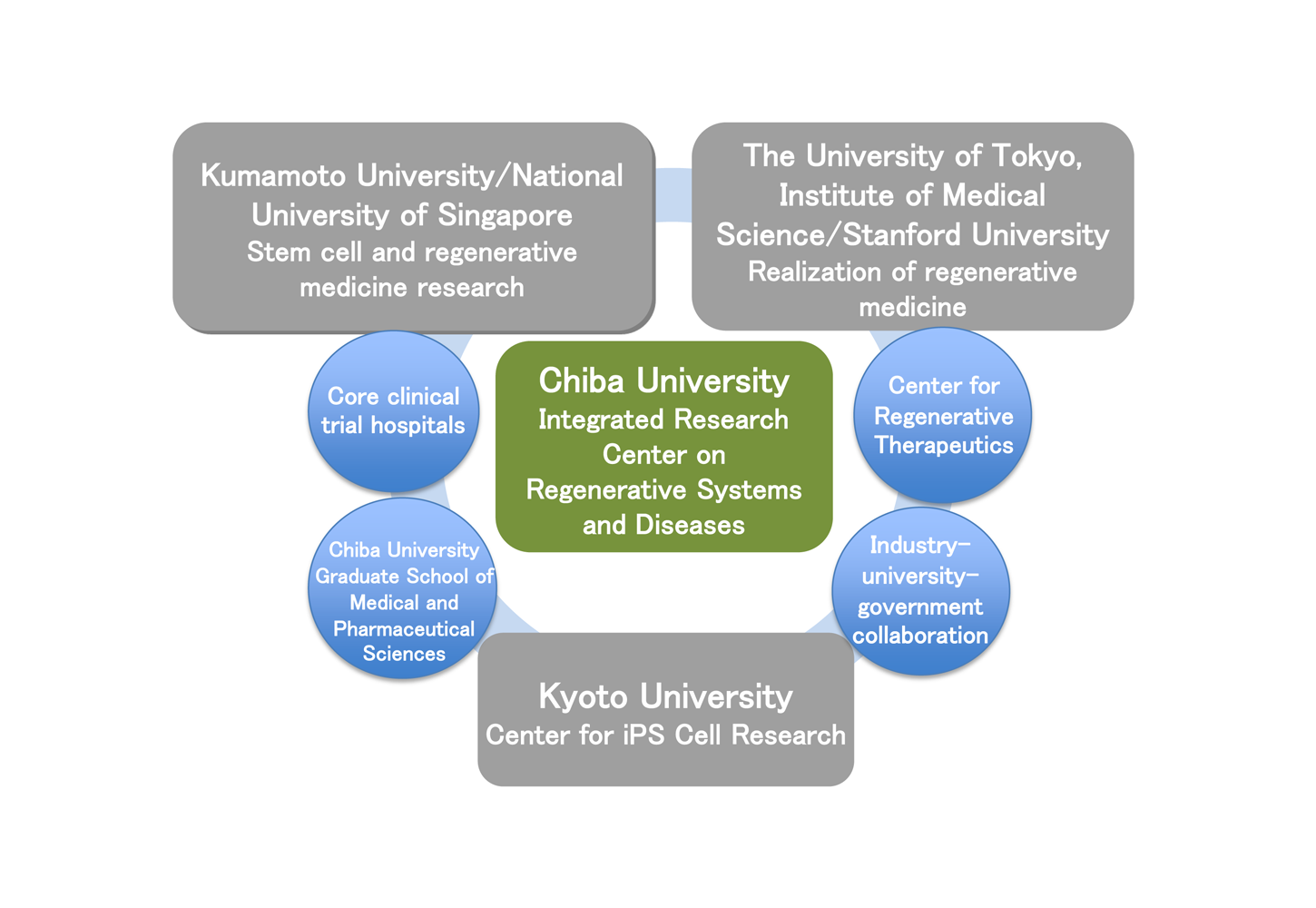 Collaboration