Hybrid Learning Support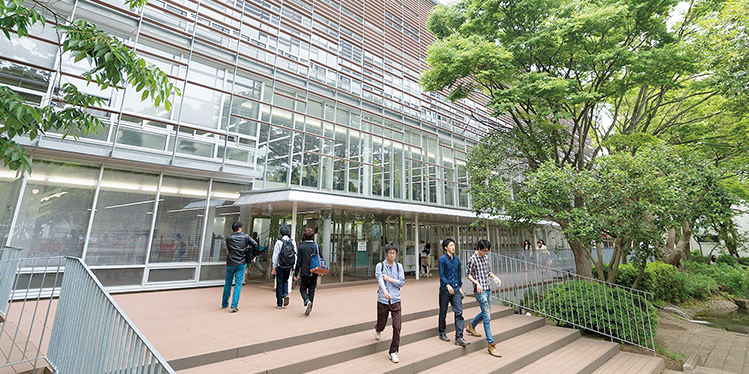 Academic Link Center (University Library)
Offering opportunities for a diversified scope of learning with "place," "content" and "support"
Academic Link Center was opened in March 2012 to promote active thinking skills.
In order to upgrade the library functions and build an educational infrastructure that consistently supports undergraduate and graduate students, we strengthen and expand the teaching and learning support functions at Chiba University.
Check below for the overview of "Academic Link" proposed by Chiba University and a new learning environment that the University Library offers.
To official Website of Academic Link Center (English translation)
Three factors promoting active thinking skills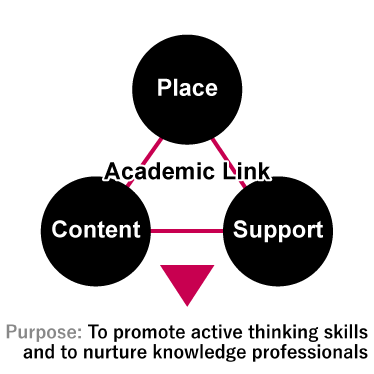 Cultivation of students equipped with "basic ability for lifetime learning" and "ability for utilizing knowledge"
Active Learning Space
The Center offers space for group or private study or sharings study results while students utilize various materials, information and communication technology as well as human support (faculty, library staff and students).
Digital Scholarship
The Center focuses on support for realizing research, education and learning using digital content and digitization of academic communication. It will provide Chiba University's academic resources through "Chiba University Academic Resource collections: c-arc" and "Bookshelves of Chiba University: cu-Books," disseminate research results, and improve the environment for using digital content.
Research & Learning Commons
The center provides the skill improvement support program (Encourage YOUR Research!), which undergraduate and graduate students can choose according to their own interests and learning needs, in a variety of formats, including lectures and practical seminars, individual learning consultations, and online teaching materials to support advanced learning.
Library Buildings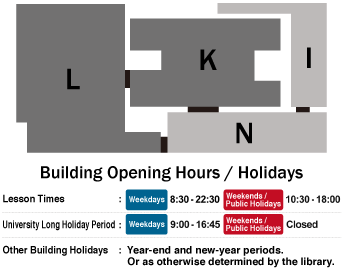 ※This section introduces the learning environment of the Main Library, and learning support by Academic Link is available throughout the University also at the Horticultural Library, the Life Sciences Library, and online.

Learning Building ~ Quiet Reading Library ~
Learning space for quietly reading books or mulling things over. The building is designed to thoroughly preserve the traditional library style. Devices with keyboard sound cannot be used in "Silent Rooms".

Investigation Building ~ Researching / Sharing Library~ ~
Equipped with seminar rooms newly designed for active learning, as well as a materials studio for recording class sessions as a base for R & D and materials production. Academic Link Center is also set up for R & D of "academic links".

Networking Building ~ Communicating Library ~
Space designed mainly for group learning, where silence is not obligatory. Various types of tables and chairs, whiteboards can be rearranged according to needs. Students can form a large group or separate themselves into small groups by moving the equipment depending on their needs.

Knowledge Building ~ Knowledge Stored Library ~
Building designed as a traditional book store room. The facility includes a precious document room, a microfilm room, electrically operated bookshelves, and so on.
Contents of Academic Link Center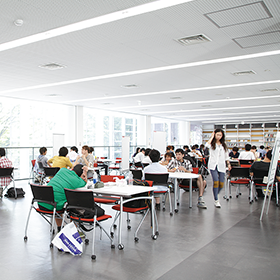 There are movable desks and chairs for group study, and counter seats with outlets. The Library is divided into speaking and quiet areas, and students can choose the best space according to their purpose.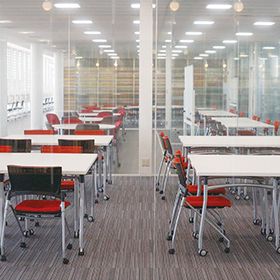 Glass-walled study rooms are symbolizing the learning space of "seeing and being seen", one of the concepts of the Academic Link.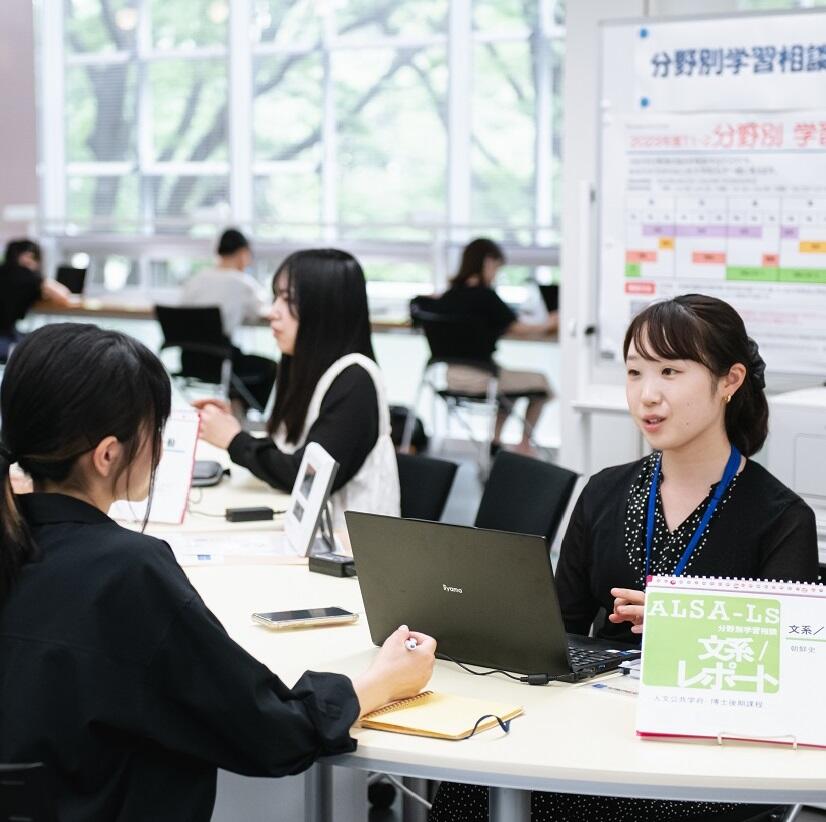 Graduate students of Chiba University provide support as Academic Link Student Assistants (ALSA) in person and online.
Field-specific learning consultation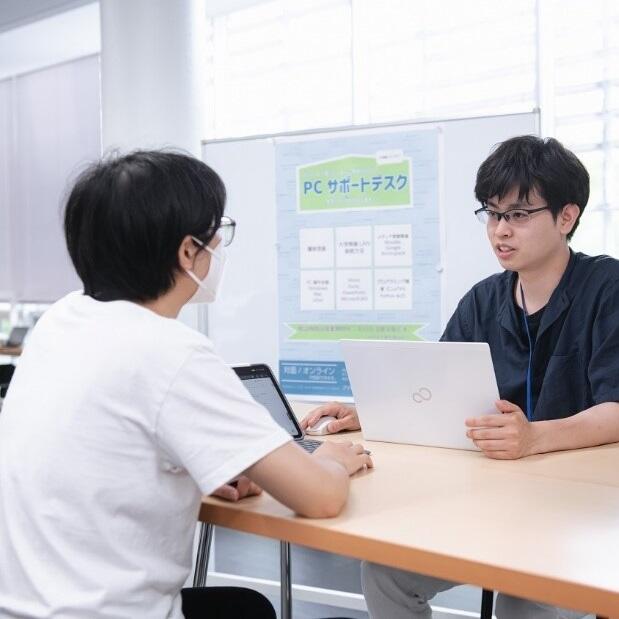 Students of Chiba University provide support for PC operation in person and online as Academic Link Student Assistants (ALSA).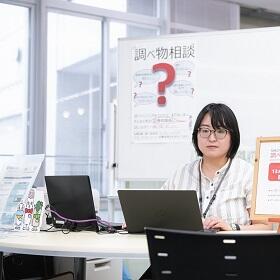 The librarians give assistance on how to find documents or materials and how to use the database system in person and online.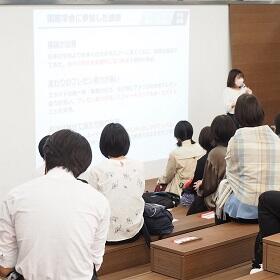 Short seminars are held on every Tuesday from 12:10 to 12:40 at the Presentation Space located right next to the Library entrance. Past seminars are available on demand for students and faculties.
1210 Akarin (academic link) hour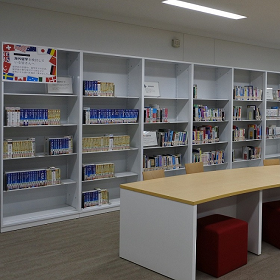 There are theme bookshelves where the student staff selects books in 10 categories (regional guide, study plan, introduction to Japan, cross-cultural exchange, etc.) that are useful to read in advance when students think about studying abroad.
Book House for Studying Abroad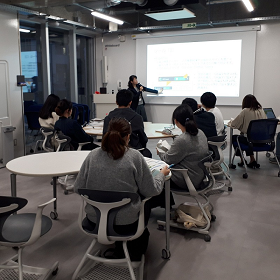 We support the advanced learning and research of Chiba University students in a variety of ways, including online seminars, practical training courses, individual study consultations, and the provision of online learning materials, mainly for undergraduate senior and graduate students.
Support for Graduate Students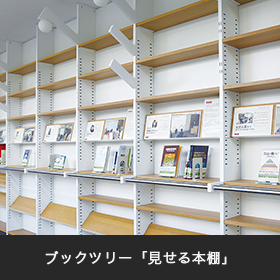 The Book Tree is a "Displaying Bookshelf" to demonstrate the diversity and possibility of the Library. The books are arranged under a theme beyond the classifications. On the first and third floors, there are also spaces available for faculty and students to use for exhibitions.
Book tree "Displaying Bookshelf"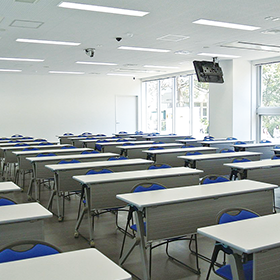 Classroom equipped with a recording system to utilize class lectures as "learning resources"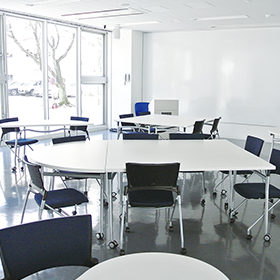 Classroom for demonstration or workshop-based lessons. The front and back walls are provided with "whiteboards extending over the entire wall."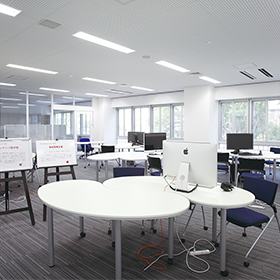 Students and faculties can use advanced equipment and software for content creation, such as videos and posters. There is also a mini studio for recording, and even beginners can operate it in consultation with technical staff.
Approach for Academic Link
Concept
"Academic Link" is Chiba University's concept for education and learning, which aims to nurture "thinking students" with the basic ability to continue lifelong learning and the ability to utilize knowledge, and "knowledge professionals" with deep expertise and the ability to think from a broad perspective.
Approach for realization
As an approach to realize this concept, we integrated the learning environment and the content provision environment, and provided three functions: "Space," "Content," and "Support" (see figure above). We provide spaces where students can speak for discussions and presentations, learning spaces for online learning, the creation of content such as electronic teaching materials, and human support for student's learning.
In recent years, our target user group was expanded to graduate students to further strengthen and expand the education and learning support functions at Chiba University, including support for academic activities and provision of information using digital resources, individual consultations for writing English papers, and various seminars reflecting the needs of graduate students.
These functions are also reflected in the design of the Academic Link Matsudo (Horticultural Library), which was expanded and renovated in 2019, along with the enhancement of online learning support, to provide education and learning support that is not bound by physical space.
Contribution to Japan's higher education
The Academic Link Center was certified by the MEXT as a Joint Usage / Education Center in FY2015. Since FY2016, the Center has been operating the ALPS Certificate Program to establish and train "Education and Learning Support Professionals," which are new professional staff necessary for universities in the future.
By promoting the "Academic Link," we will also contribute to improving the overall quality of higher education in Japan.