Welcome to "President's Choice"!

I am Toshinori Nakayama, President of Chiba University.
Here, I would like to introduce our activities and highlights of the month!
"President's Choice" July 19, 2023
Announcement of Three Awardees of The Young Scientists' Award 2023
-Chiba University is strengthening its support system for early-career researchers who will lead the next generation.-
We are proud to announce that three researchers from our university, who have made remarkable achievements in the field of science and technology, have been awarded the 2023 Commendation for Science and Technology by the Minister of Education, Culture, Sports, Science and Technology.

The Young Scientists' Award

Title: Studies on Adaptation, Evolution, and Diversification in Extreme Environments in Plants
Natsu KATAYAMA, Graduate School of Science
Restart Postdoctoral Fellowship, Japan Society for the Promotion of Science

Title: Research on the dynamic optimality of flying animals and bio-inspired mechanical systems.
Toshiyuki NAKATA, Associate Professor
Graduate School of Engineering

Title:Research of physiological functions of oil bodies in plants.
Takashi SHIMADA, Associate Professor
Graduate School of Horticulture
Chiba University values the diversity of academic disciplines and strategically promotes research that explores new research fields. We prioritize cutting-edge studies that bring about societal transformations while strengthening support for young and emerging researchers who will lead the next generation. Furthermore, we are committed to nurturing research personnel through the implementation of the 'Chiba University Career Support System for Young Researchers(FY2023)' This program seamlessly integrates our unique support with government initiatives, fostering researchers and contributing to the formation of an exceptional community of scholars."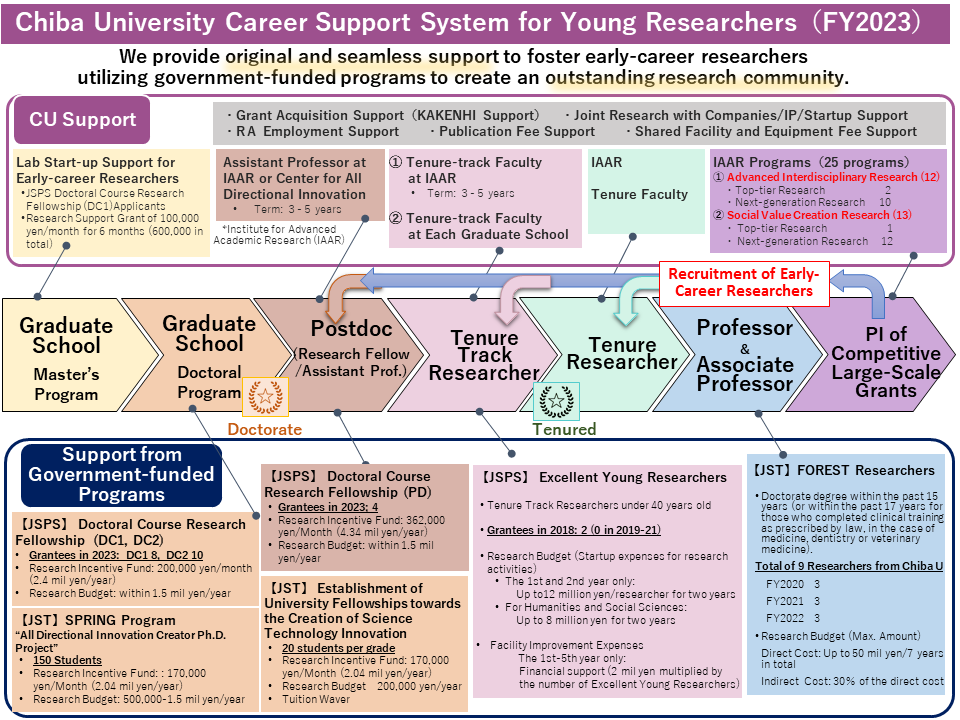 In the academic year 2022, under the initiative called 'Lab Start-up Support for Early-career Researchers' we have launched a program to provide research support expenses (100,000 yen per month) for outstanding students in the master's program. The aim is to create an environment where they can focus on their studies and research activities. Additionally, in the doctoral program, over 150 students receive financial support for living expenses through programs such as the 'Support for Pioneering Research Initiated by the Next Generation' supported by the Japan Science and Technology Agency. Furthermore, we have hired two tenure-track associate professors, three specially-appointed assistant professors, and eleven tenured professors to support their career paths.
Chiba University will continue to enhance support for excellent early-career researchers and strive to develop talents capable of co-creation with society
back number
[May 30, 2023]Establishment of the "Research Center for Space Agriculture and Horticulture": Creating an International Hub for High-efficiency Resource-Recycling Food Production System"

[Apr 19, 2023]Chiba University Released President's Choice Lecture Series on Official YouTube Channel
[Apr 4, 2023]Chiba University Claims Top Spot for 8th Consecutive Year in National University Entrance Exam Applications!
[Feb 15, 2023]Current progress of Chiba University's Global Program -Three initiatives of the "ENGINE" plan-
[Dec 9, 2022]CHIBADAI NEXT, a Chiba University-owned media to share fascinating research of Chiba University
[Aug 8, 2022]Chiba University Researchers announced the new findings on biomarkers to predict the aggravation of COVID-19.
[Feb 18, 2022]Chiba University Hospital received a Special Award at the "25th Chiba Image Improvement Award".
[Dec 23, 2021]Signing of Mutual Collaboration and Cooperation between Yokohama National U and Chiba U
[Nov 9, 2021]Covid-19 Vaccination Wayfinding System, a collaborative work with Sumida Ward, won Good Design Best 100 and Red Dot Award.
[Sep 13, 2021]Chiba University has been selected for the "Support for Pioneering Research Initiated by the Next Generation."
[Jun 7, 2021]Three Chiba University mascots are calling for precautions to prevent new coronavirus infection while eating out
[Apr 28, 2021]Chiba University was ranked No.1 in national universities in the number of undergraduate applicants for the sixth consecutive year!